While Easter is still a few months away, we're starting to think through what this will look like for the churches we partner with. And—if you're involved in your church's communications team in some capacity—it's probably time for you to start thinking about how to prepare your church for Easter too. Not sure where to start? You've come to the right place.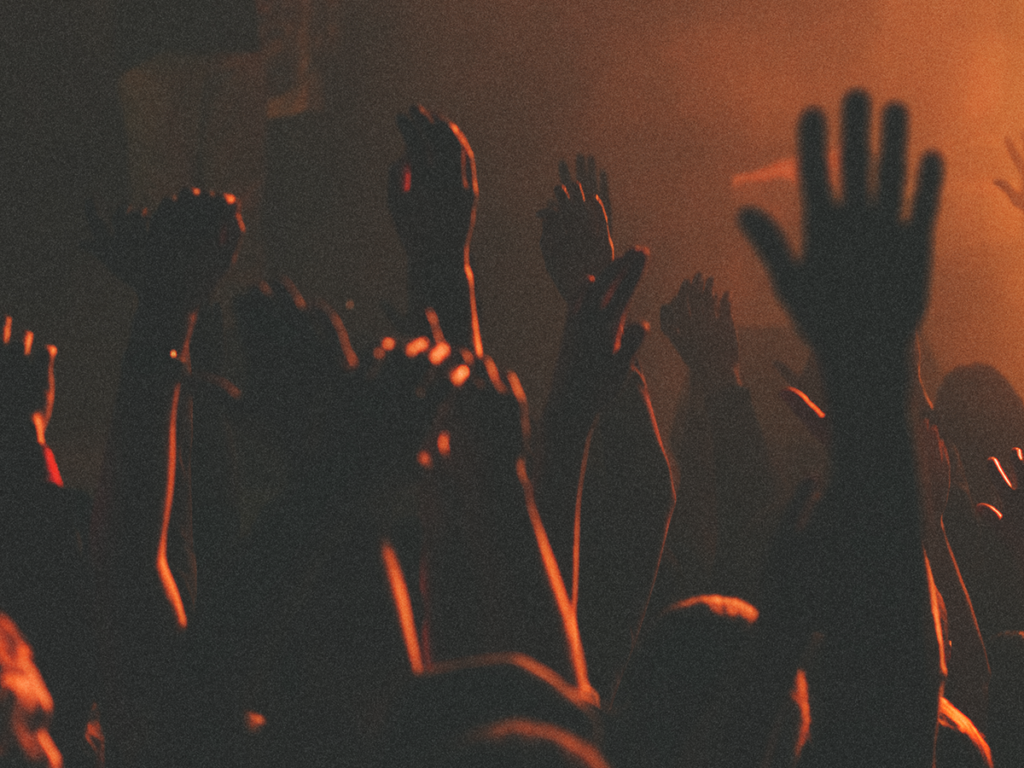 PREPARE YOUR CHURCH FOR EASTER WITH A COMMUNICATIONS PLAN
One of the biggest mistakes that churches make regarding Easter is planning one big Sunday event with their budget, time, energy, and social media presence all dedicated to getting people to church to experience it. And don't get us wrong—Easter Sunday might be the most important day of the church calendar, so this is no surprise. But the question we're asking is "How can we make the most of the Easter season?" Our answer? We think celebrating the whole Easter season is a great first step.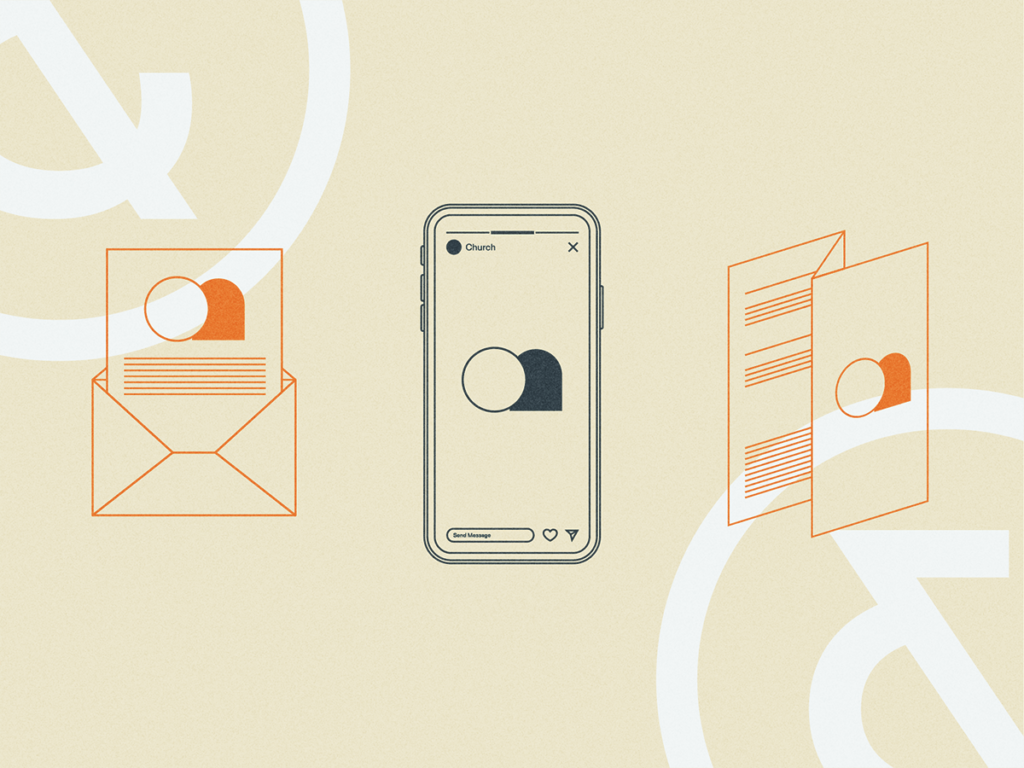 Preparing your church for Easter all starts with a plan. You can adapt and shift courses as needed, but planning is key. We're so convinced that we even wrote a free ebook about DIY communications plans—check it out! So where do you start? We've broken it down into a few steps.
Define your communications channels. Think about the people in your church. How do they communicate or—the real question—how do they really want to communicate? For some people, they might sign up for your church's newsletter because that's all that's offered to them, but they'd be much more comfortable with Instagram stories. For others, it might be the opposite. Are there a few channels of communication that would best serve your church as a whole?
Think about timing. After you've decided which channels to use, it's time to think about the ideal schedule. When it comes to Easter though, we've got you covered with a full week-by-week plan leading up to Easter Sunday. Stay tuned.
Select topics. The content you choose to create doesn't have to be based on the most unique, interesting, and mind-blowing idea in the world—but if it is, we won't stop you! As you figure out what topics to talk about through your communications, here are a few questions to ask:
Calendar it out. It might seem a bit over the top, but putting this time in will help you and your team to be less stressed throughout the remainder of the Easter season.
Assign Content Development. This is the fun part. Once you've developed some ideas for your Easter campaign and put them on the calendar, you and your team can get to work! Making sure to have clear deadlines will help everyone out in the long run. If you have a small team or are working by yourself, be sure to think through your own limits.
Maintain and Adapt. You're good to go—email, mail, or post away! But, if you notice something isn't working to engage people like you thought, don't be afraid to switch things up.
WEEK-BY-WEEK EASTER PLAN
Looking for something practical? Here's a week-by-week plan to prepare your church for Easter. This plan is meant to flex with your needs, based on the channels you use to communicate and how you'd like to disperse the workload.
9 WEEKS BEFORE
Around nine weeks before Easter, it's time to start thinking about your messaging and branding for Easter. At this point, don't worry about the details too much. Pastor Ron Pulliam talks about planning Easter Sunday on a practical level and says that everything starts with the Easter Sunday message. Meeting with the pastor giving the message can give you valuable insight and direction as you plan for the season. Once you've developed a general direction, this is a good time to start developing any digital materials or print materials.
7 WEEKS BEFORE
At seven weeks, you can send any materials to print that you won't physically create yourself, giving your team enough time to adjust to unexpected obstacles without finding yourself in a pinch.
Ash Wednesday, which marks the beginning of Lent—the 40-day season of fasting and anticipation leading up to Easter—occurs six and a half weeks before Easter. The Lenten season is a great time to engage with your church and celebrate the Easter season in a more holistic way. For practical ideas on helping your church engage in Lent, check out this article by Vanderbloeman.
4 WEEKS BEFORE
If you are planning to send print materials by mail, four weeks before is an ideal time to do this. You can either send these to members of your church or—if your budget allows—the USPS offers a service called Every Door Direct Mail, which enables you to choose specific routes or neighborhoods while also filtering by demographics based on U.S. census data. It can be a great way to get the word out about Easter at your church! Find out more on the USPS website.
3 WEEKS BEFORE
At this time, most of your church probably received invitations or handouts for Easter by mail. You can reinforce this by announcing details about any kind of Easter services or events. Three weeks before can be a good time to start this because it will give people enough time to plan ahead and invite their friends and family without being too far in advance.
This is also the best time to start promoting Easter Sunday itself on social media, while honing in on other Easter content, such as Scripture reading, encouragement or content worth sharing from other churches or leaders, or videos. We even created a downloadable resource full of practical content ideas for churches who want to use their social media for more than just advertising throughout the Easter season. Is that you? Check it out!
1 WEEK BEFORE
You've almost made it. At this point there isn't much left to do. Maybe it's time to rest and check in on people. Your church may also be running Holy Week services, so if that's the case, this schedule will allow you to be fully present—rather than throwing together last-minute materials.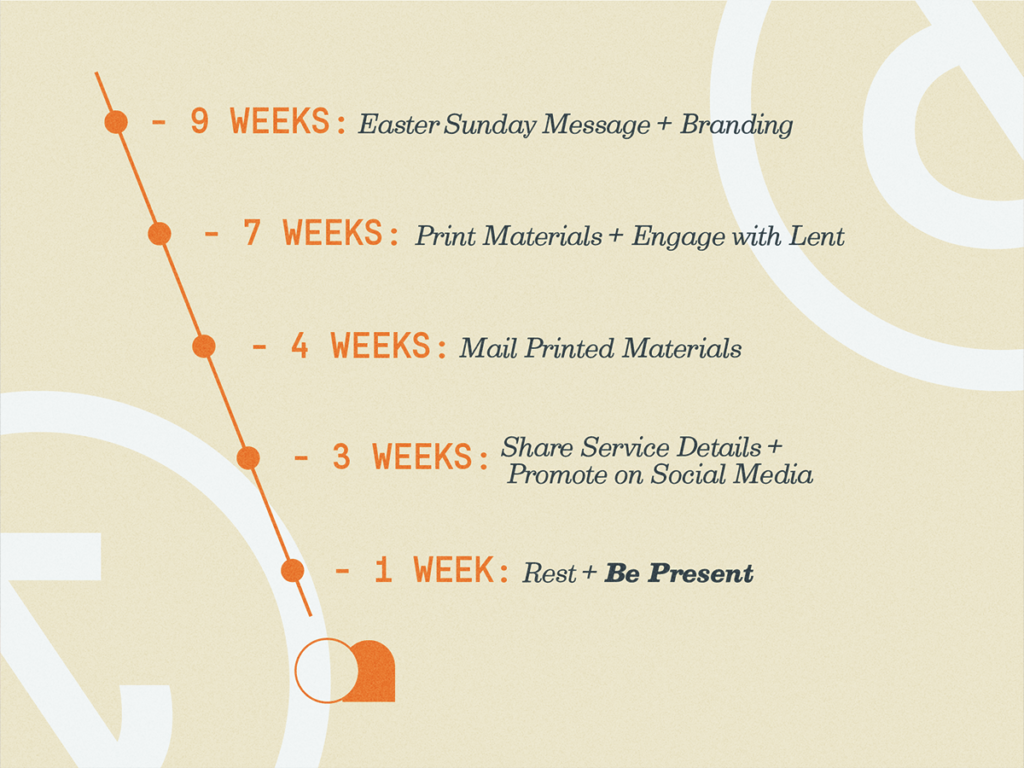 A FEW MORE THINGS TO KEEP IN MIND AS YOU PREPARE FOR EASTER
Okay, so your church's Easter service had record attendance. What now? How can we keep people coming back—not to boost numbers, but to be transformed by the Good News that Easter celebrates? Can you simplify your connect card? Introduce a new series that might invite people to come back? Promote a gathering for people interested in learning more about your church or opportunities for community?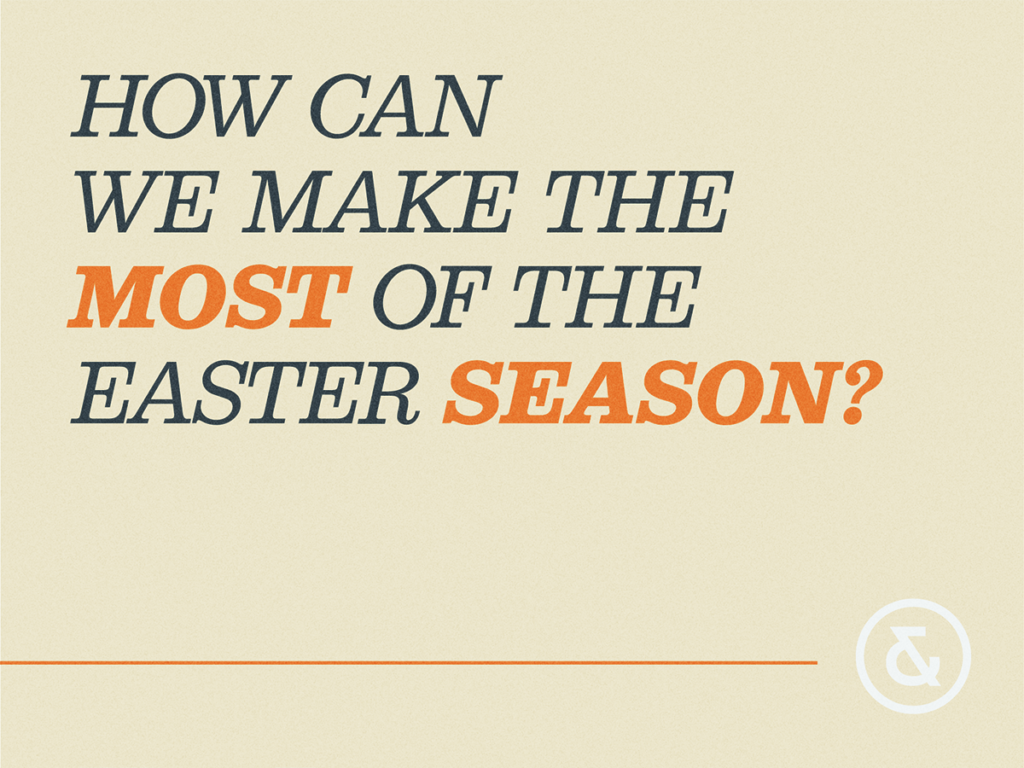 If you're serious about preparing your church for Easter, it's probably because you're serious about reaching people with the good news of Jesus. We couldn't be more with you on this. But for some church staff, burnout is a real danger during this season. Remember to rest—it's a marathon, not a sprint. And, while you're at it, check out our blog post on avoiding burnout.
If all of this seems like a lot to manage, it's not too late to partner with Anna Montgomery & Co for this Easter season! Last year, we partnered with Athens Church as they navigated this season despite lingering hurdles of COVID-19—browse the case study to catch the details and maybe even get some Easter inspiration for your own church. Want to learn more about a partnership? We'd love to connect!