Athens Church was planted in Columbus, Indiana, to live out a specific mission—to see a people, city, and world awakened to the glory of God. After launching in 2016, the church had grown and established itself as a thriving, gospel-centered community of believers. When we started working with them in 2019, they occupied a clear space in the city but had yet to develop a recognizable visual identity. Our team helped them develop a consistent brand that encapsulated the vision of the church. This branding partnership led to an on-going partnership in which we provided communications support on a variety of other projects. In 2021, after previously working together on a successful Christmas campaign, Athens approached our team again about doing something for the Easter season.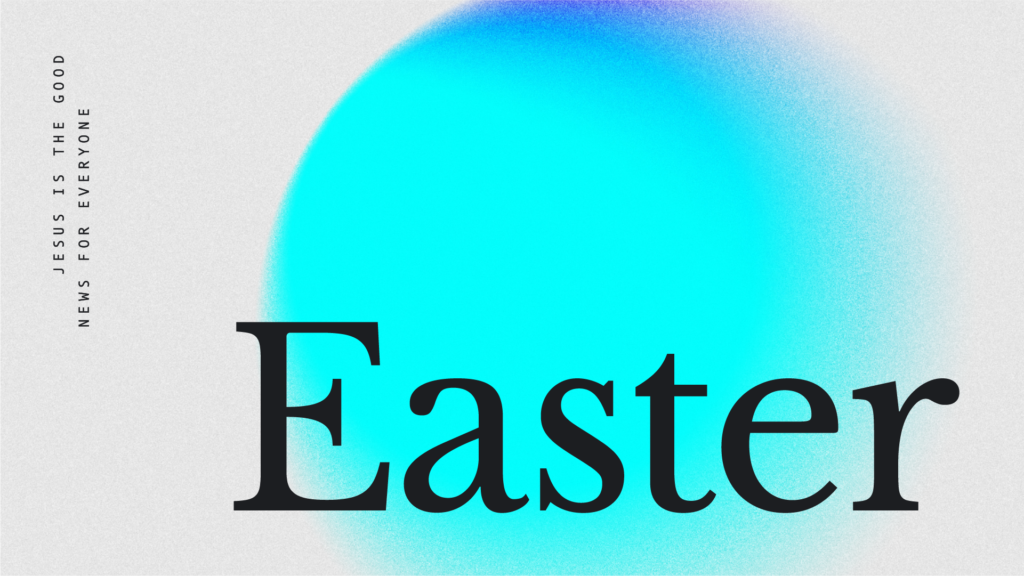 Fostering Easter Season Connection in a Fractured Environment
As a relatively young church with limited resources, Athens Church had been holding their Sunday gatherings in a local school. In the spring of 2021, when the majority of churches were beginning to meet again post COVID, Athens was unable to resume its Sunday services because school policy prohibited large groups from gathering on school grounds. Though they eventually found an alternative meeting location, Athens was struggling to find its footing in a new environment. As they approached their Easter planning, the church leadership knew they wanted to find a way to make the Easter season memorable in the midst of the challenges and truly bring people together again.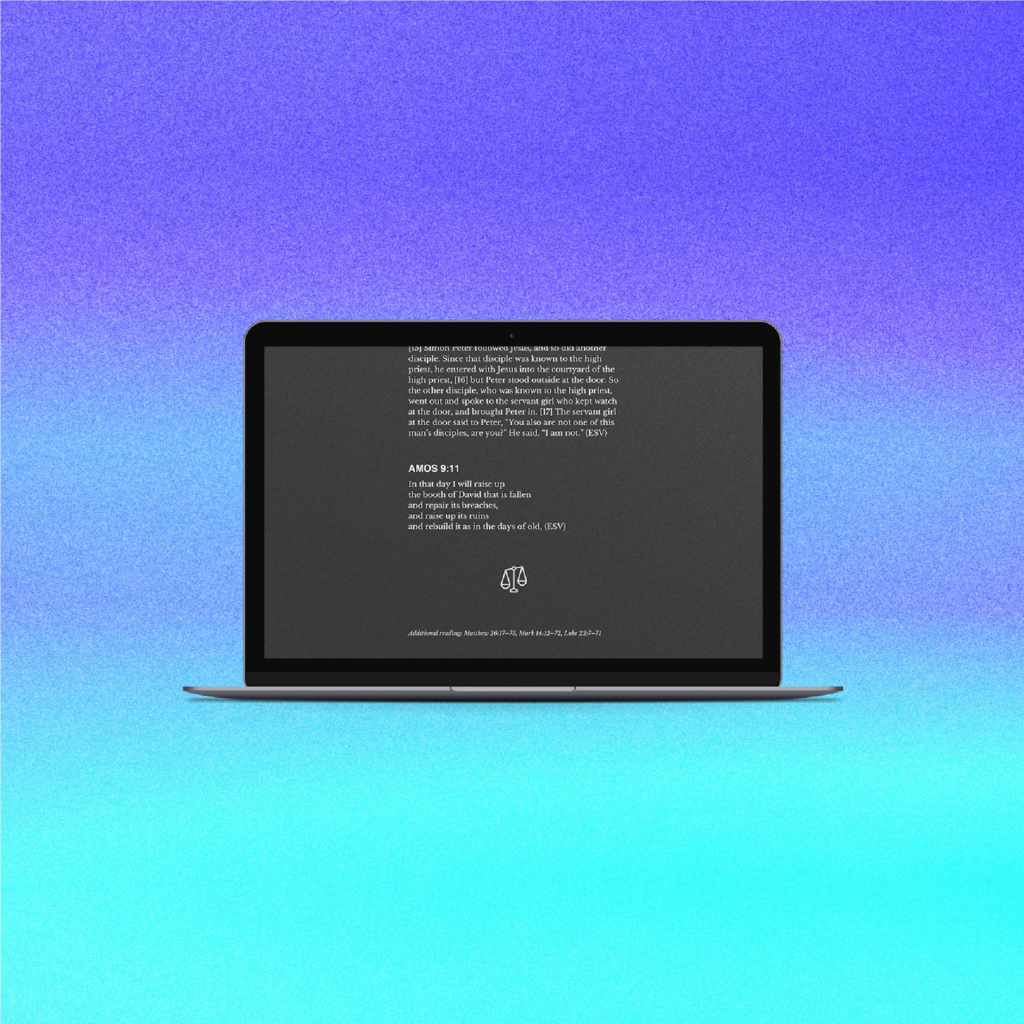 Can You See the Bigger Picture?
The Anna Montgomery & Co team kicked off this new project with Athens by meeting with church leadership. We learned that, between the change in location and the fact that some church members were still watching online while others attended in person, there was a disconnect in the church and nothing felt quite "normal." We discussed the reality that many people likely would still not be in-person for Sunday morning Easter services. Athens' leadership wanted people to celebrate Easter and feel a part of something larger even if they remained in their own homes.
Athens Church had not historically observed Holy Week or Lent. We saw an opportunity to lean into these seasons to create a journey that would get people thinking about the bigger picture of Easter and emphasize that it is more than a one-day celebration.
With this background in mind, our team put together an Easter strategy that would:
Be fresh and creative.
Prompt people to think about Easter in a holistic way that would be engaging and transformational whether they were there on Sunday morning or in their own homes.
Walk people through a Lent, Holy Week, and Good Friday journey that would enable them to feel the emotions and experience the impact of the entire Easter season.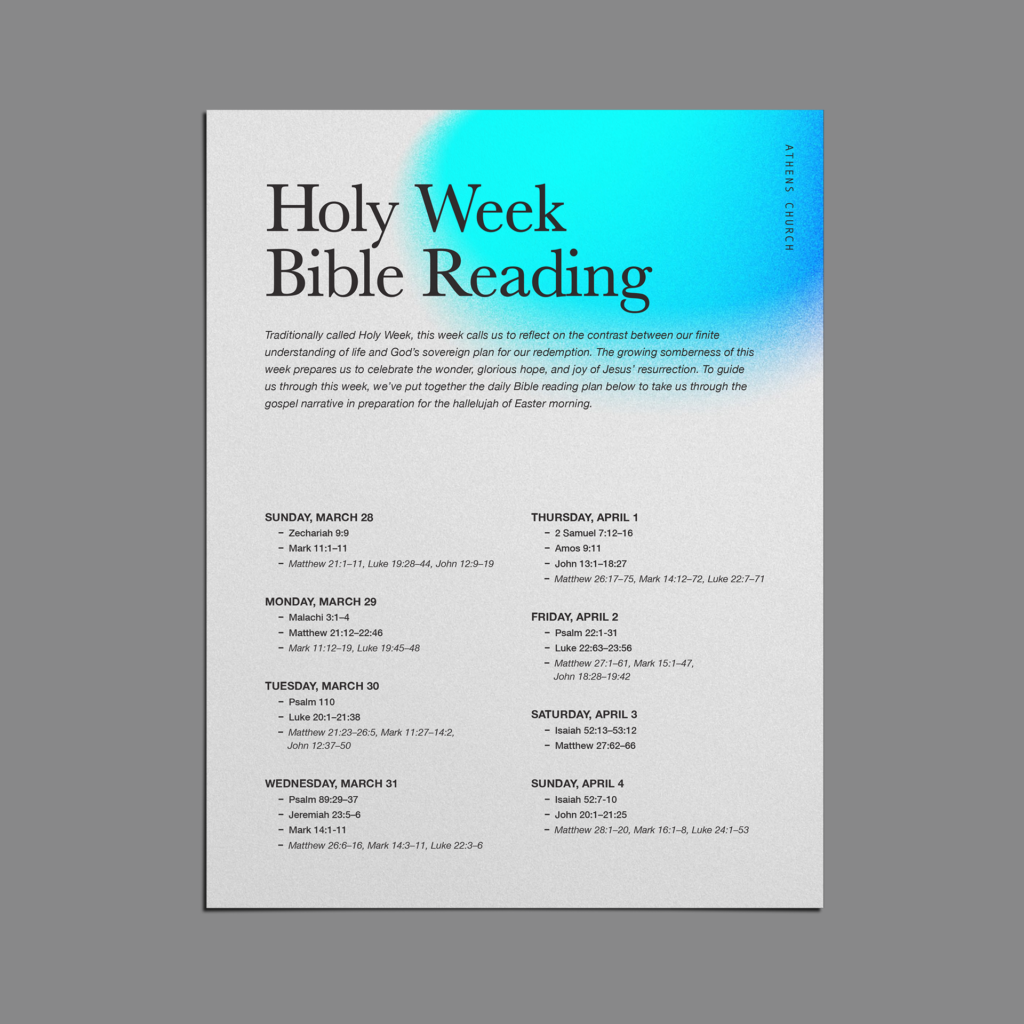 Creating a Visual Journey Through the Easter Season Using Contrast
After solidifying a strategy, our team went to work on a campaign design that would be unique to the Easter materials yet consistent with Athen's larger brand. We decided on a design that used gradient color with a serif typeface in black and white. Because gradients had not yet become a popular design trend, this design stood out with a trend-setting feel.
We chose a serif typeface in black and white because we wanted to lean into something classic, stable, and trustworthy. We wanted something that would feel established, and text-centric, reminding people of scripture and the weightiness of words. Additionally, we wanted to lean into a typography that made people feel like they were looking at a book.
At the same time, we recognized that the Easter season has many emotions attached to it. There are feelings of hope, joy, and anticipation, but when considered holistically, the Easter journey also encompasses feelings of loss, hopelessness, and despair in the events of Holy Week and Good Friday. We wanted to use color and gradient to capture that sense of change from one emotion to another.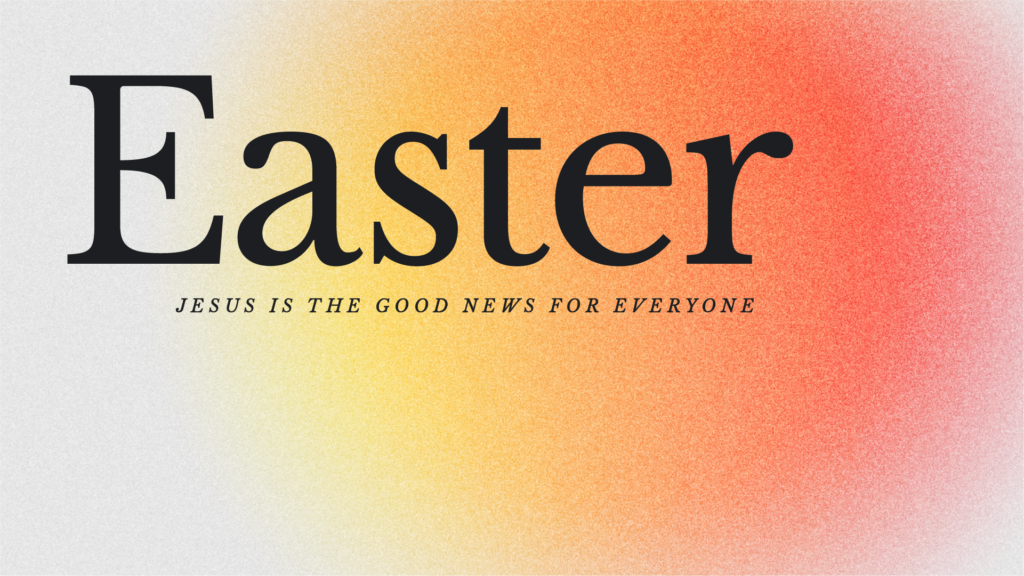 In our final design, we had a beautiful contrast of traditional typography with black serif typefaces juxtaposed with bold, colorful, saturated gradients with an abstract, organic shape. The contrasts resonated with the context of Easter 2021 for Athens. There was Easter as it had always been, with familiar experiences and expectations, juxtaposed with the unexpected lingering effects of a pandemic that reminded us life is not the way it's supposed to be.
This seemed like the perfect design to connect life's present emotions to the emotions of the first Easter. As we led the people of Athens Church on this journey, we wanted to help them see that, for Jesus' followers, the very first Easter wasn't what they wanted or expected either. We welcomed the chance to meet people where they were and invite them to come on a journey—to lift their eyes and see something more in the season, to see Christ himself.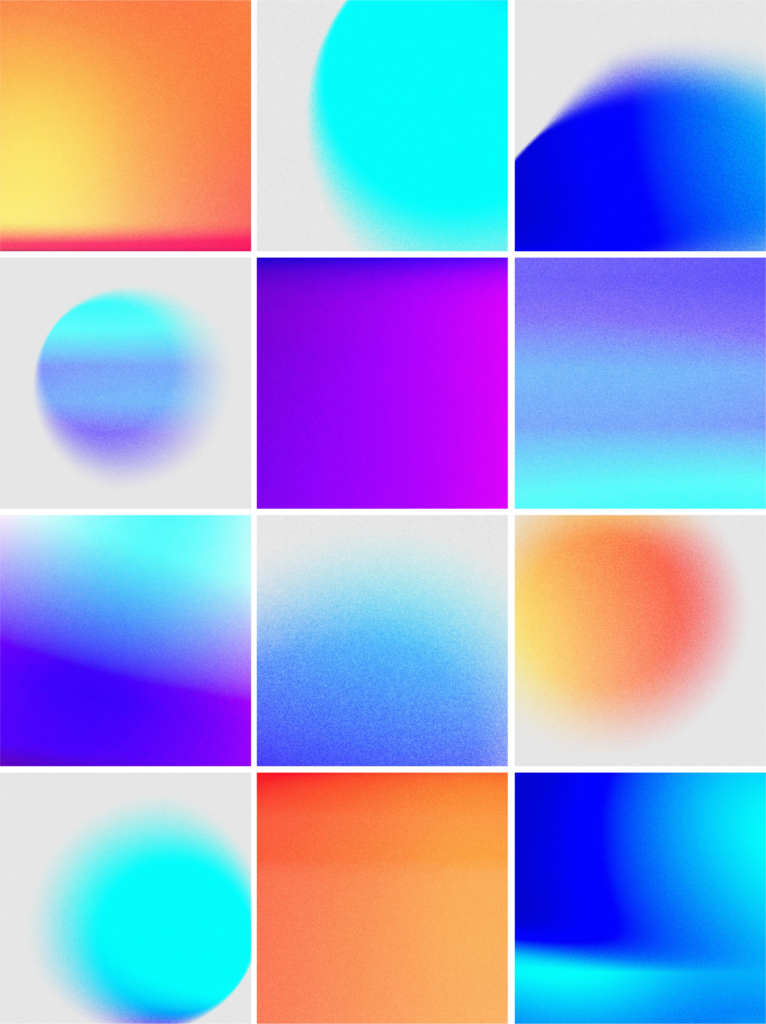 Putting the Plan into Action
Once the brand was established, our team began building it out. The first step was creating marketing elements and implementing them across church communications, social media, and the Planning Center app. These pieces all used the gradient background and tagline "Jesus is the good news for everyone."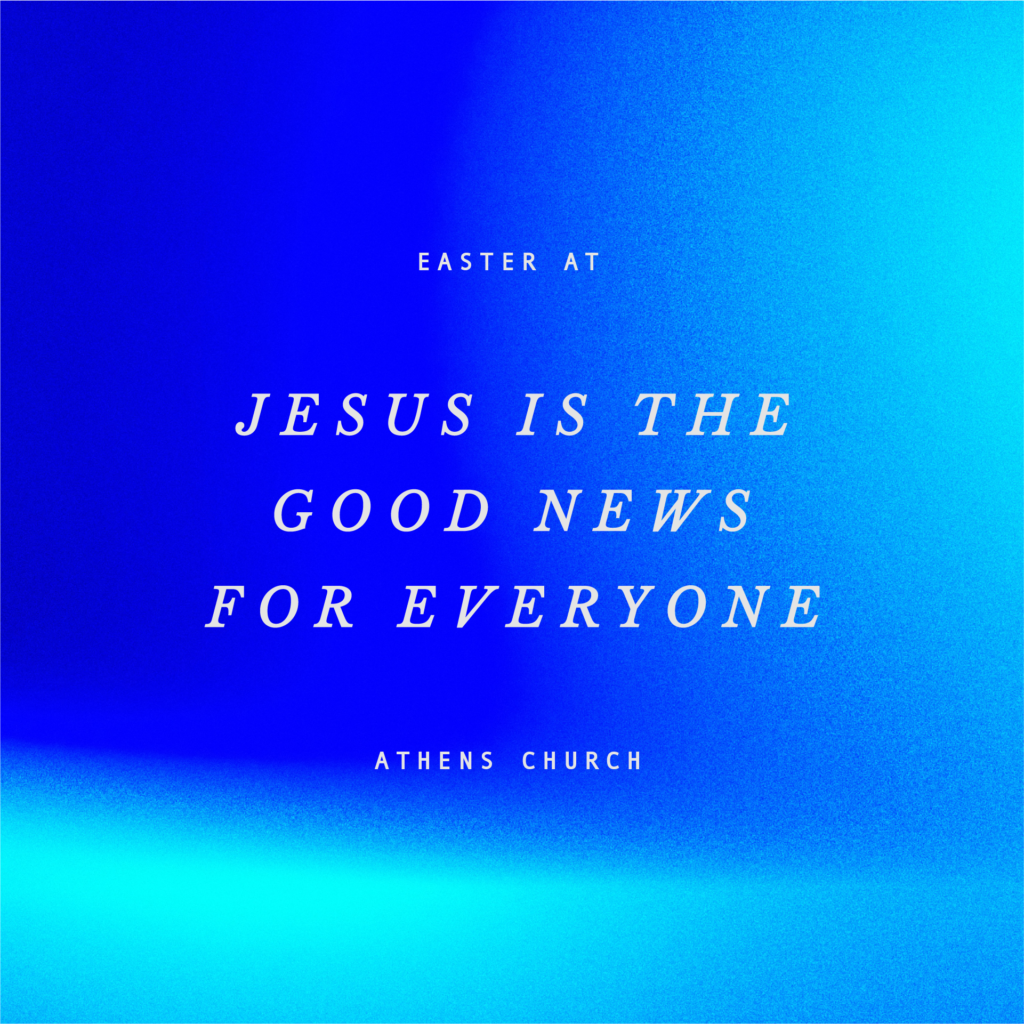 For church email communications, we created email backgrounds with a color wash such that people would see color at the top of the email that gradually transitioned to white. In addition to promotional emails throughout the Easter season, we also created discipleship email content. This content introduced Holy Week and delved into why Easter matters.
While marketing elements were the focus for the four weeks leading up to Easter, we developed special content for the Holy Week experience. For this last week before Easter, we put together a week-long Bible reading plan which was the heartbeat of Holy Week. This plan included a downloadable resource that included a daily scripture passage to read, and we sent a daily email with the scripture, so church members had it readily available. The content for each of the seven days leading up to Easter described what Christ did the last week before his death, with each day having an associated icon and theme. Our aim was to capture the sense of approaching darkness as Christ's death drew near.
To include the whole family, we coordinated with the Athens Kids team to develop a corresponding children's reading plan with a coloring page that went along with the icon and theme of the day. Every day, we also linked to outside resources to encourage families to read and learn even more.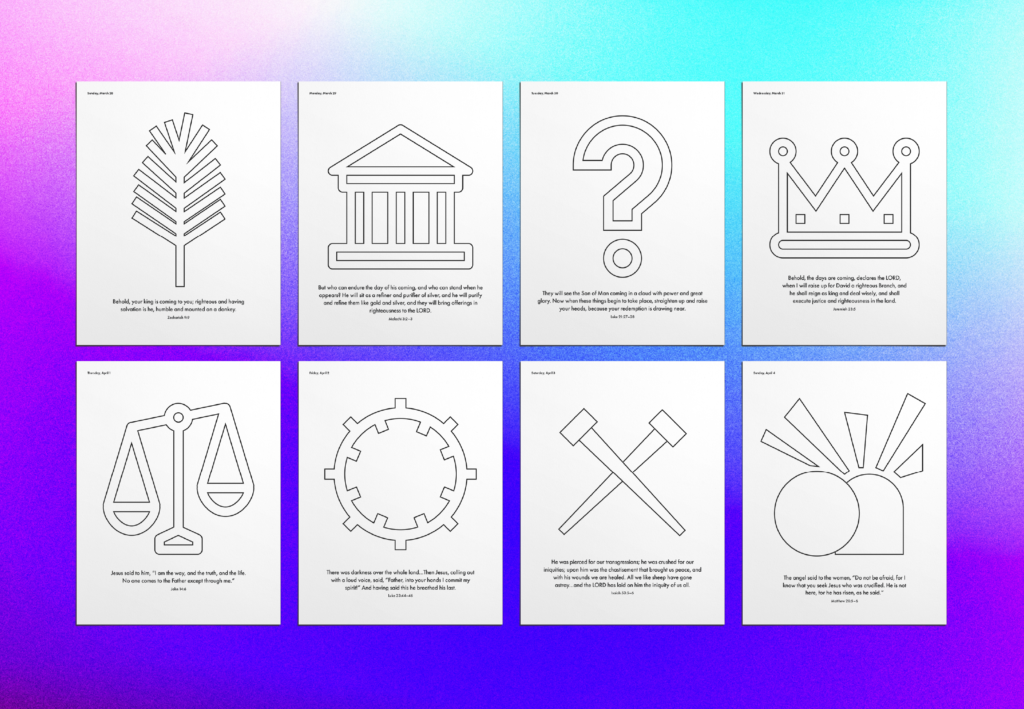 As the people of Athens journeyed through Holy Week, they saw socials updated every day, an app updated every day, and an email every day. To visually portray what was happening in Holy Week, the accompanying graphics began black and white, became darker through the week, and finally went all black on Saturday. Then, on Easter Sunday, everything switched to bright, saturated color. Together, the words and visuals led the congregation through an experience of prayerful reflection on scripture and why it matters in the context of Holy Week.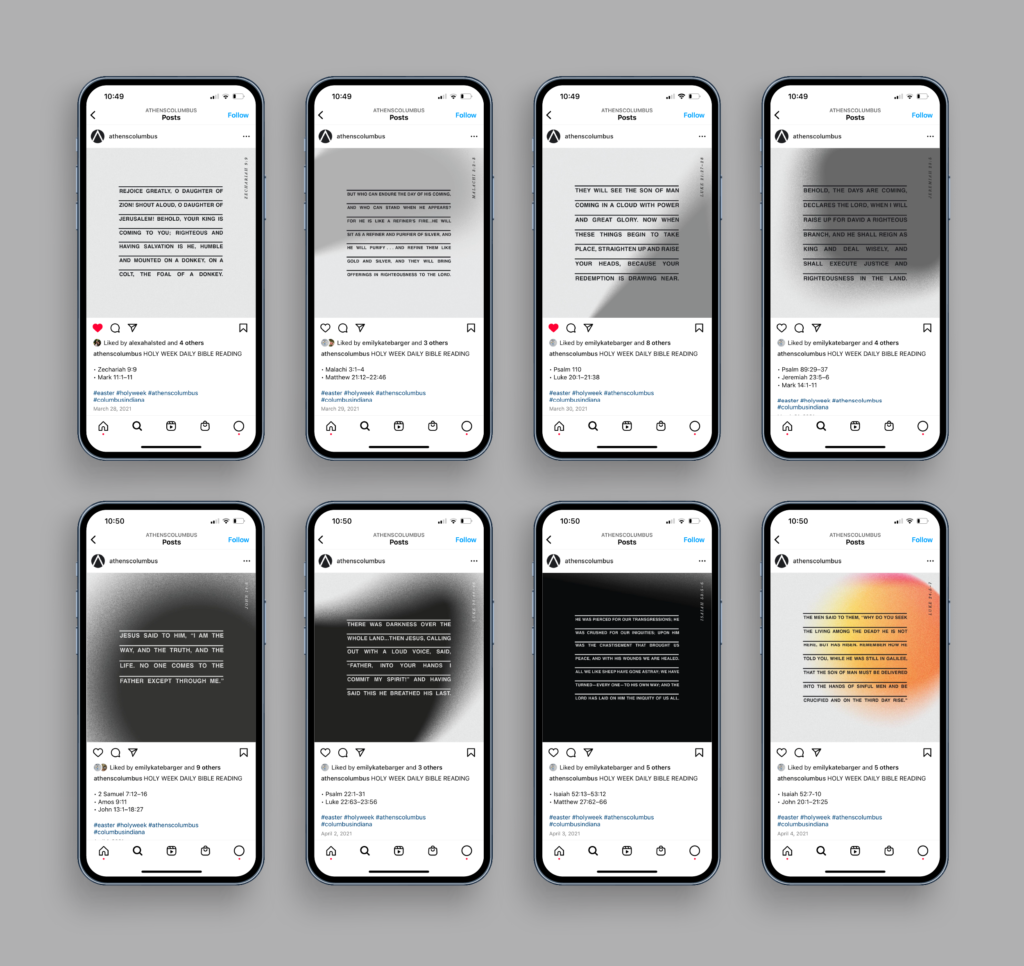 Because many people were still spending a great deal of time in their homes in the spring of 2021, we also did a Bible reading plan on social media during Holy Week. A group of volunteers took turns reading the daily scripture on Instagram and Facebook Live. This was a very casual reading, with volunteers usually in their living room recording themselves on their iPhone. This brought great engagement from people because it wasn't a big production. It was yet one more way to interact with the scripture and with another person, and it created a sense of community as the church walked through Holy Week and the meaning of Easter together.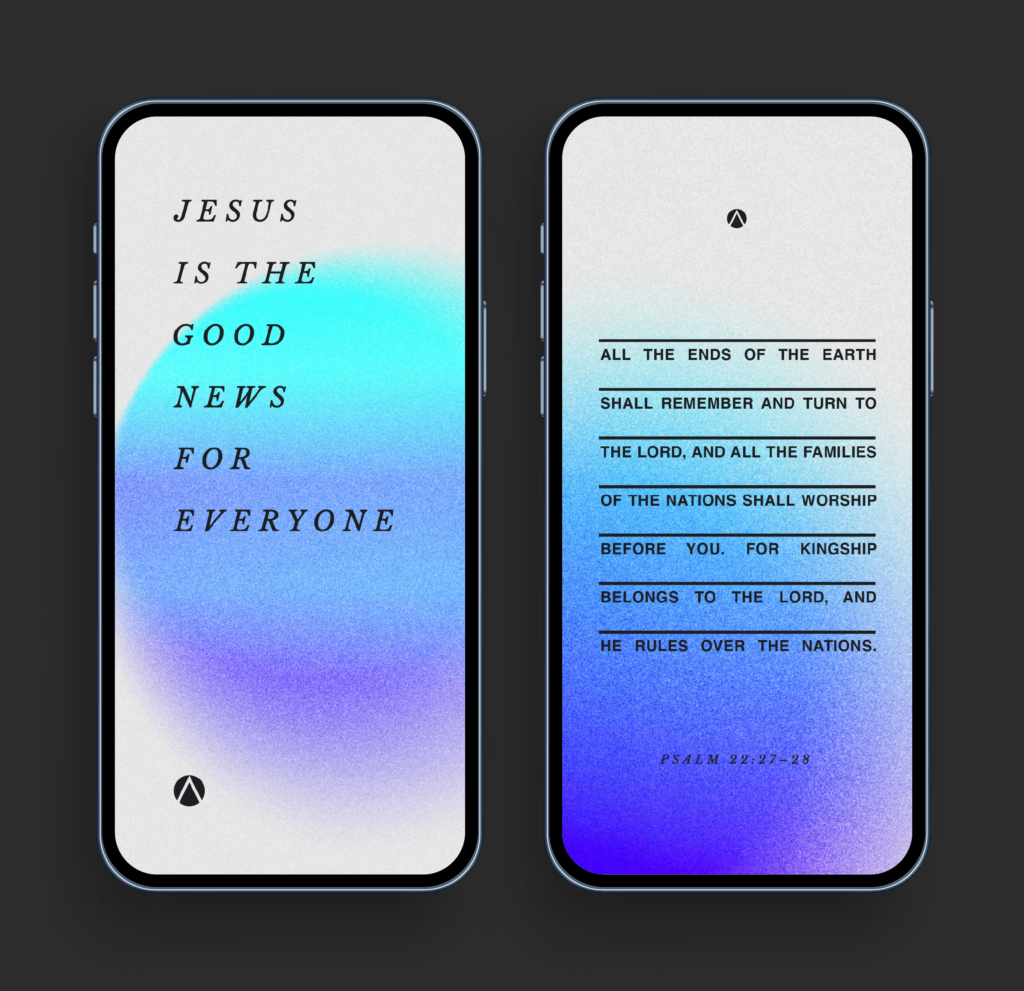 By leaning into the unexpected elements of the 2021 Easter season rather than avoiding or dismissing them, Athens Church was able to lead the people of their congregation into a deeper experience of the season of Easter. Having a strategic plan allowed them to draw parallels between the emotions they had been experiencing and the emotions felt at the first Easter, so long ago. The journey through Holy Week facilitated a mindset shift from seeing Easter as a single-day event to seeing it as the culminating celebration that came on the heels of great darkness, disappointment, and disillusionment. People who felt disconnected shared a new sense of community as they read scripture to one another and participated in the same journey of coming to better understand why the resurrection matters.
Feeling Stuck? Wanting to do something different this Easter Season?
We're here to help. Contact us with any questions you have. We'd love to hear from you and have a conversation!