Columbus, Indiana
Easter at Athens Church
Sharing the Good News of Easter
Even under normal circumstances, coming up with a new way to approach the Easter season to make it meaningful and memorable can be a challenge for church leaders and staff teams. In the spring of 2021, many churches were still emerging from the restrictions of the pandemic, adding a unique challenge to Easter planning efforts. Desiring to build community despite the obstacles, Athens Church reached out to Anna Montgomery & Co for help in maximizing the impact of their Easter communications.
Athens Church was planted in Columbus, Indiana, to live out a specific mission—to see a people, city, and world awakened to the glory of God. As a relatively young church with limited resources, Athens Church had been holding their Sunday gatherings in a local school. In the spring of 2021, when the majority of churches were beginning to meet again post-COVID, Athens was unable to resume Sunday services because of rules prohibiting large groups from gathering on school grounds. Though they eventually found an alternative meeting location, Athens was struggling to find its footing in a new environment. As they approached their Easter planning, the leadership at Athens knew they wanted to find a way to make Easter memorable in the midst of the challenges and really bring people together again. For help in this effort, Athens' leadership reached out to our team.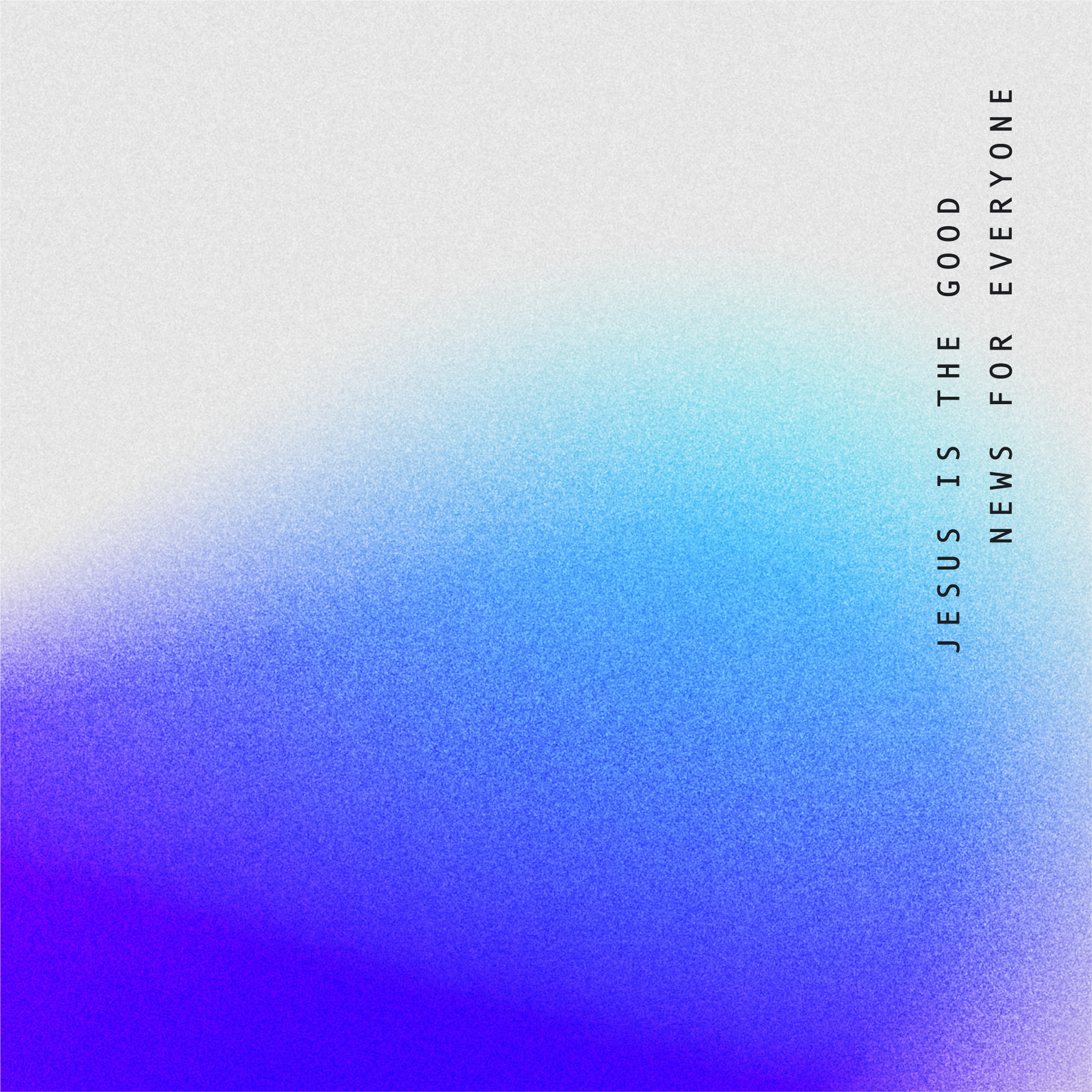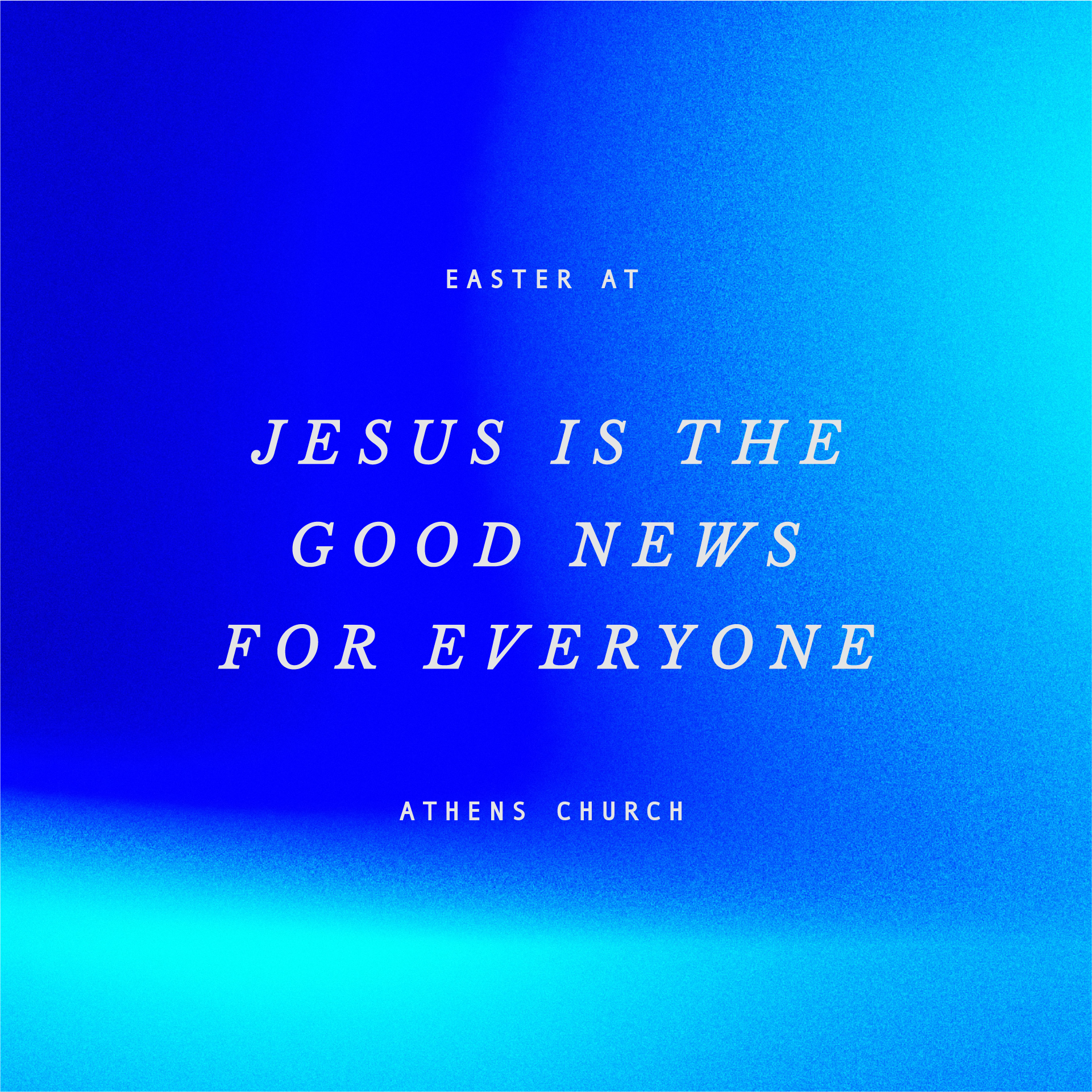 The Anna Montgomery & Co team kicked off this new project with Athens by meeting with the church leadership team. We learned that, between the change in location and the fact that some church members were still watching online while others attended in person, there was a disconnect in the church and nothing felt quite "normal." Understanding that many church members would likely not be in person for Easter Sunday, Athens' leadership wanted to find some way to make the season memorable and bring people together again. They wanted people to celebrate Easter and feel a part of something larger even if they remained in their own homes.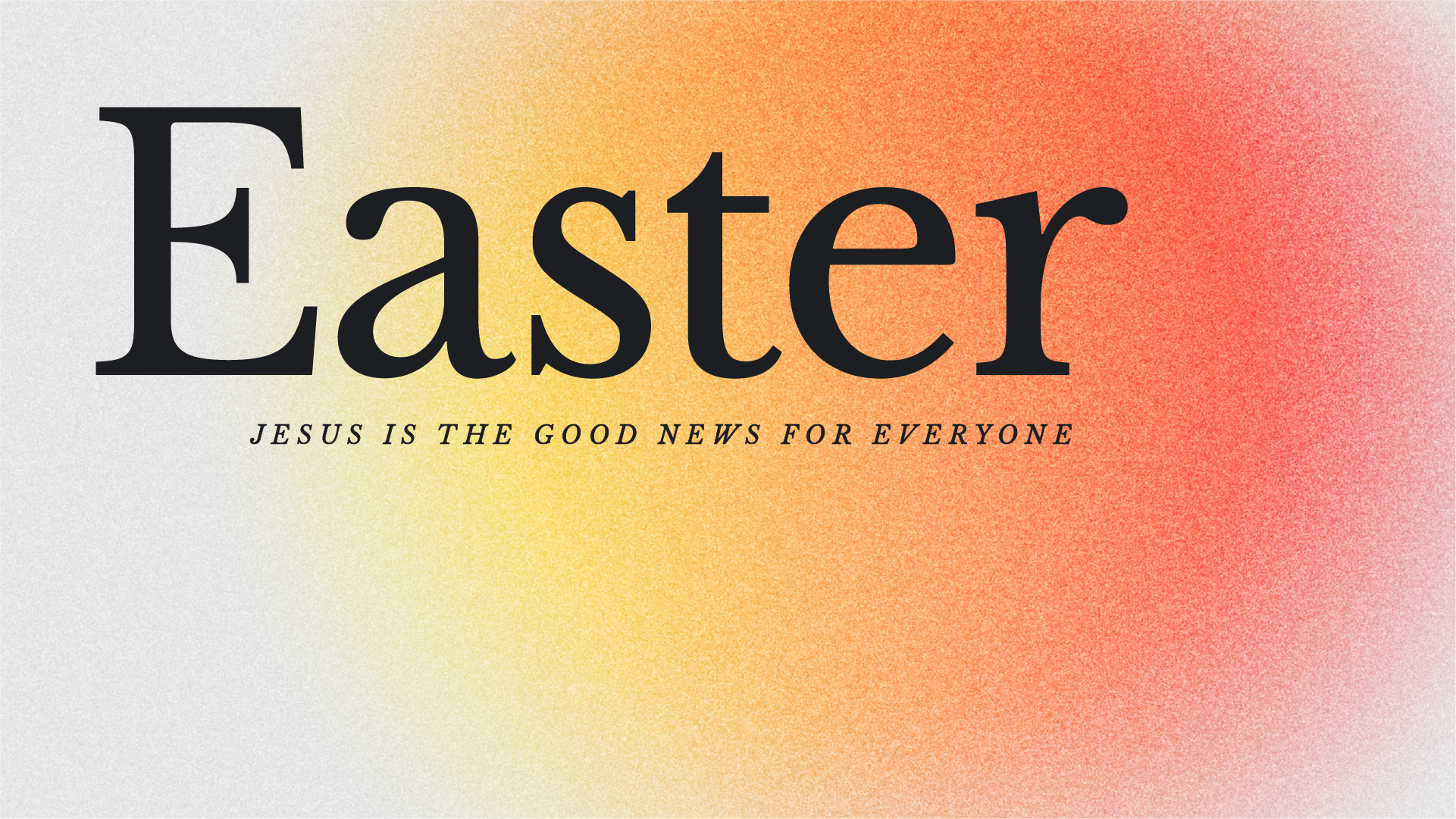 Athens Church had not historically observed Holy Week or Lent. We saw an opportunity to lean into these seasons to create a journey that would get people thinking about the bigger picture of Easter and emphasize that it is more than a one-day celebration.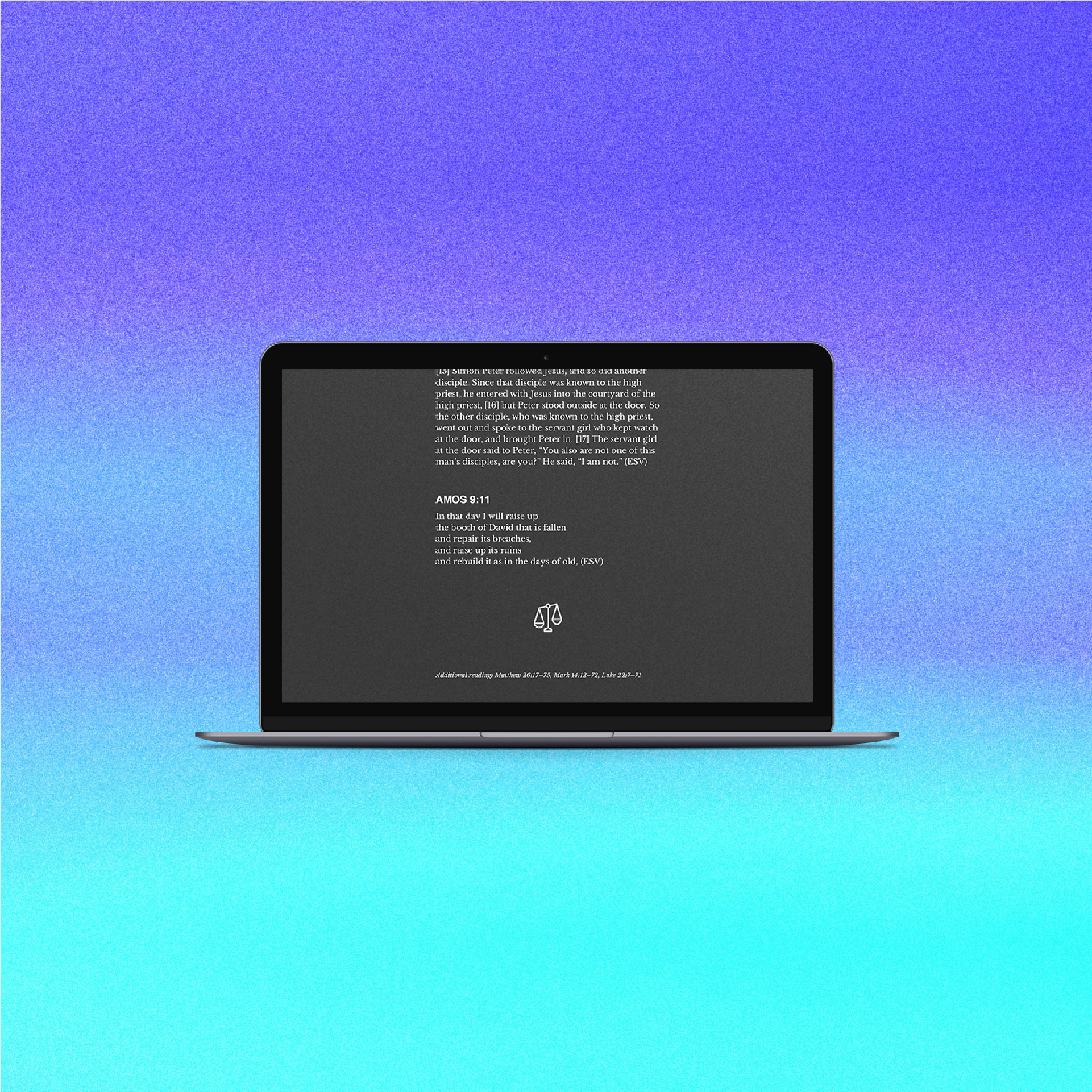 With this background information in mind, our team put together an Easter strategy that would:

-Be fresh and creative.

-Prompt people to think about Easter in a holistic way that would be engaging and transformational whether they were at the Sunday morning gatherings or in their own homes.

-Walk people through a Lent, Holy Week, and Good Friday journey that would enable them to feel the emotions and experience the impact of Easter.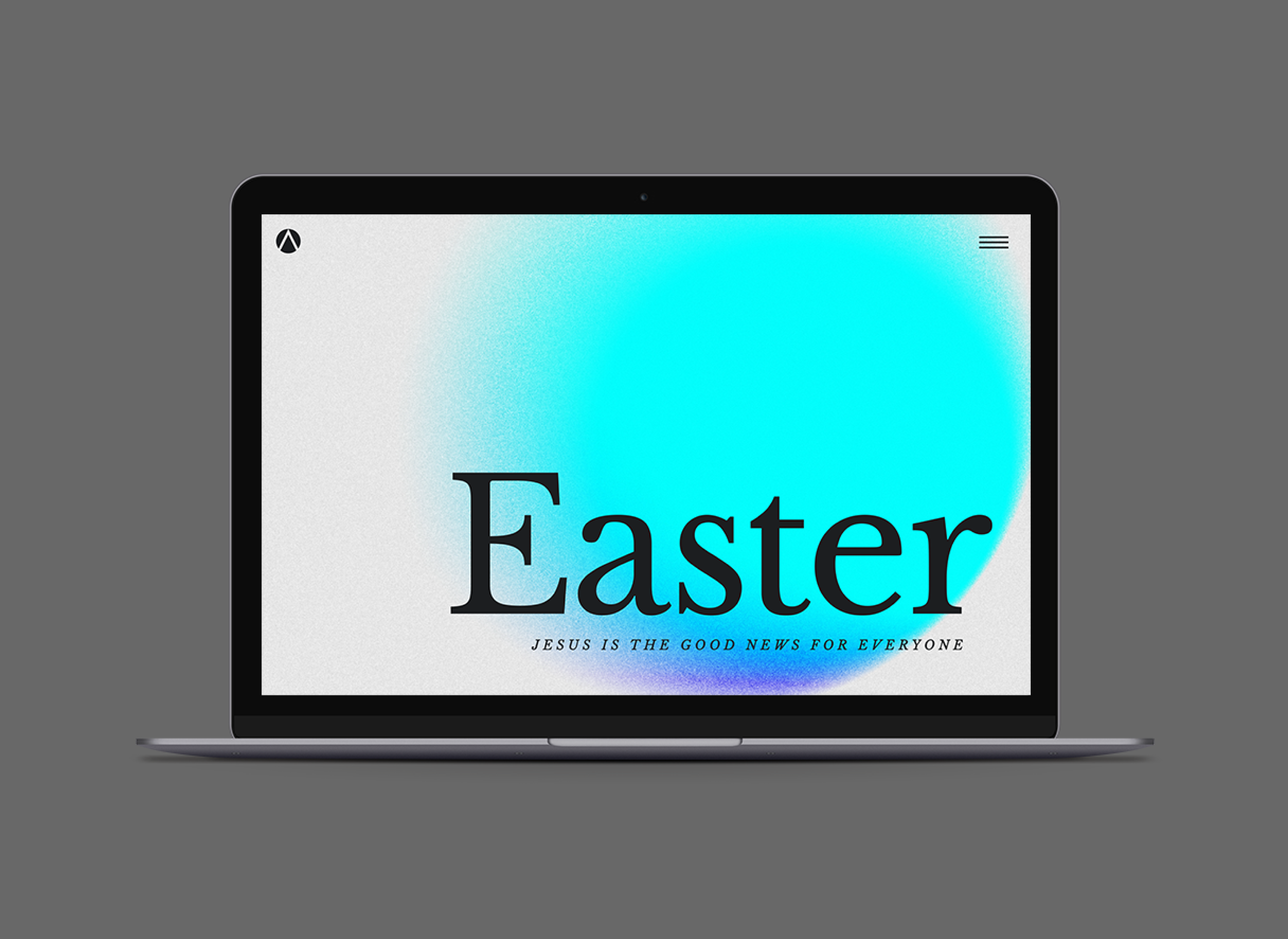 After solidifying a strategy, our team went to work on a design that would be unique to the Easter materials yet consistent with Athen's larger brand. We decided on a design that used gradient color with a serif typeface in black and white that felt classic, stable, and trustworthy. We wanted something that would feel established and text-centric, reminding people of scripture and the weightiness of words.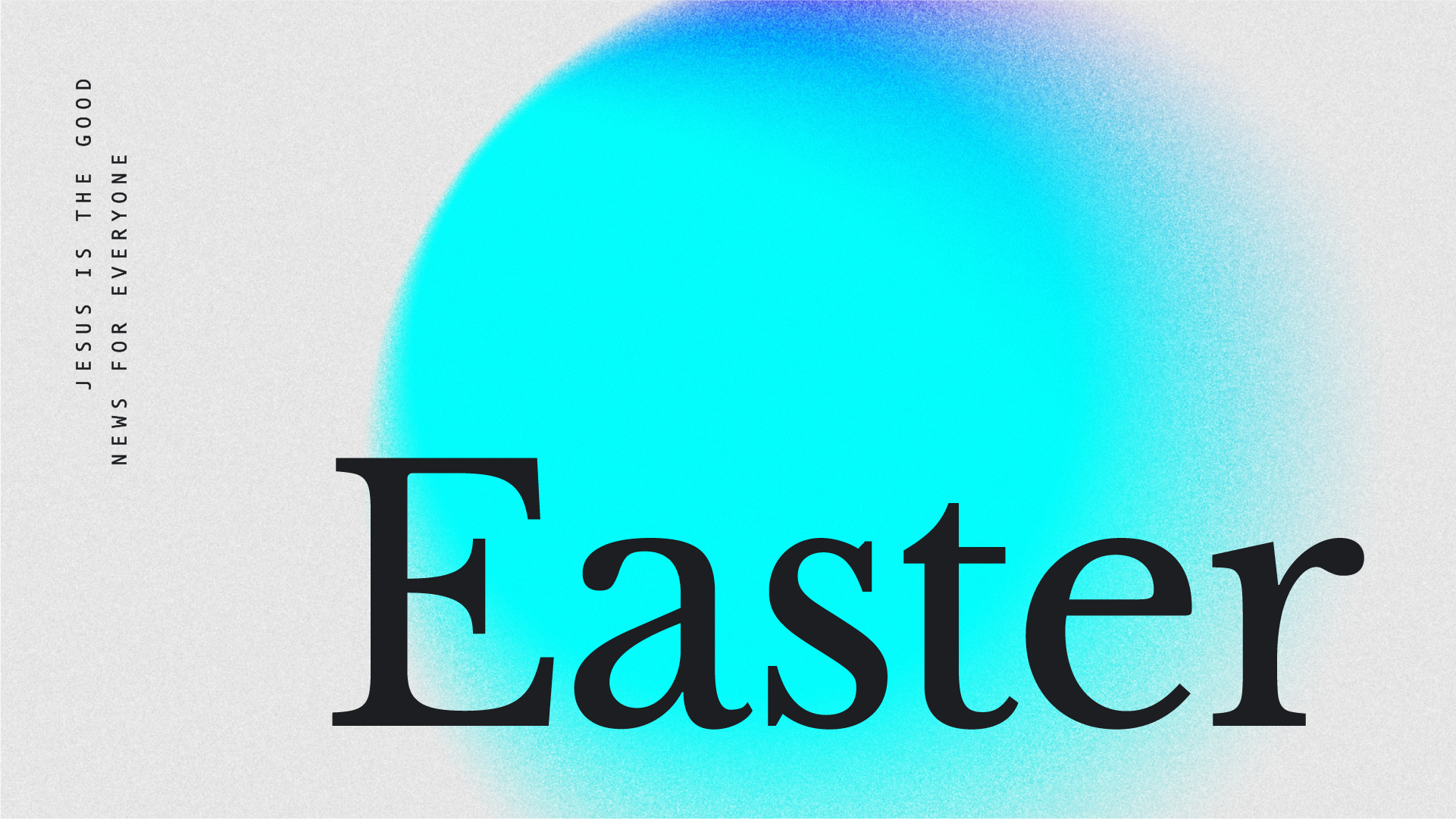 At the same time, we also recognized that Easter has many emotions attached to it—feelings of hope, joy, and anticipation, but also loss, hopelessness, and despair in the events of Holy Week and Good Friday. Because there is a lot going on emotionally in the Easter season, we wanted to use color and gradient to capture that sense of change from one emotion to another.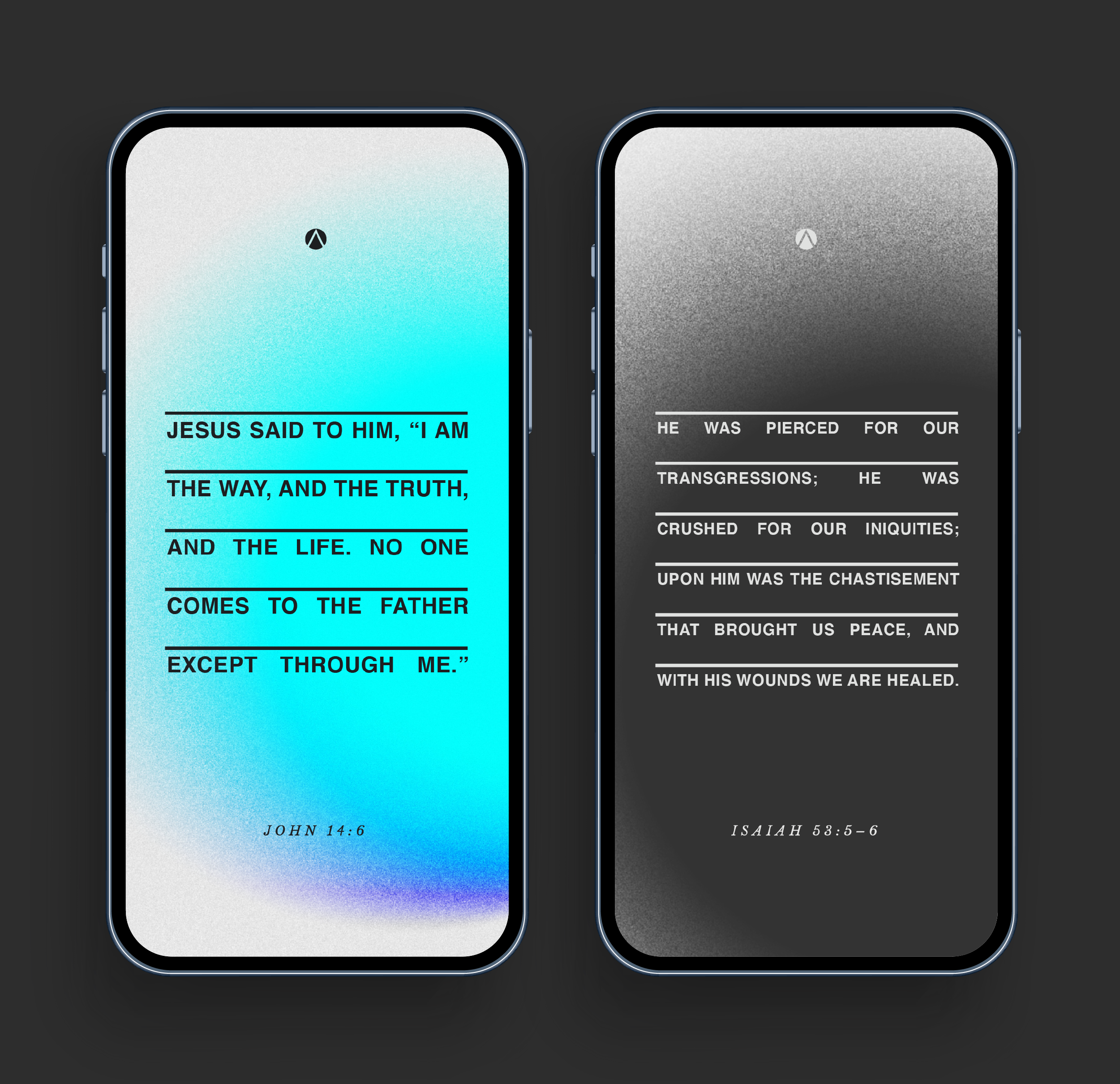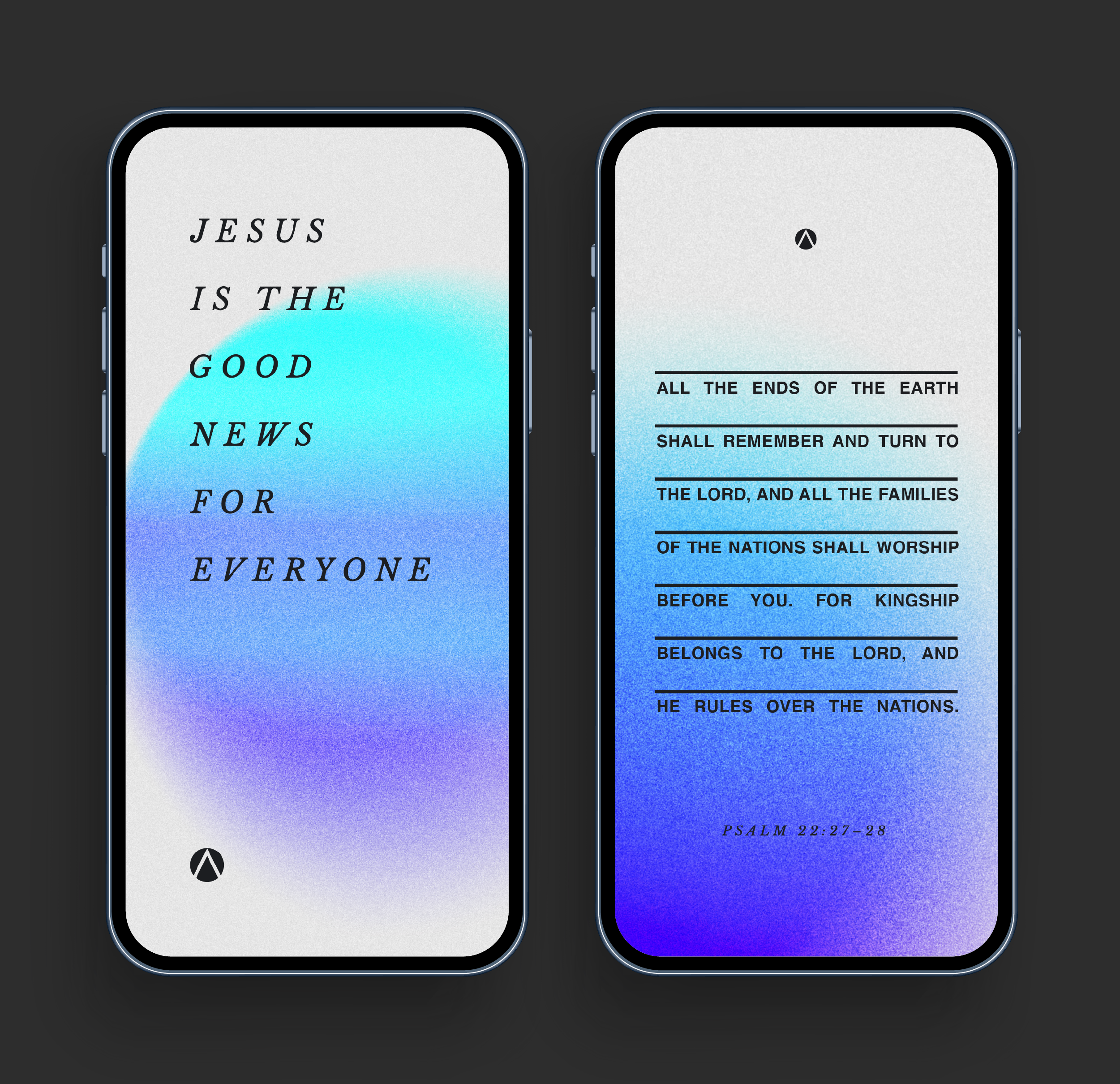 Once the brand was established, our team began building it out through marketing elements implemented across church communications, social media, and custom graphics for the Planning Center app.
To keep the whole family engaged, we coordinated with the Athens Kids team to develop a corresponding children's reading plan with a coloring page that went along with the theme of each day.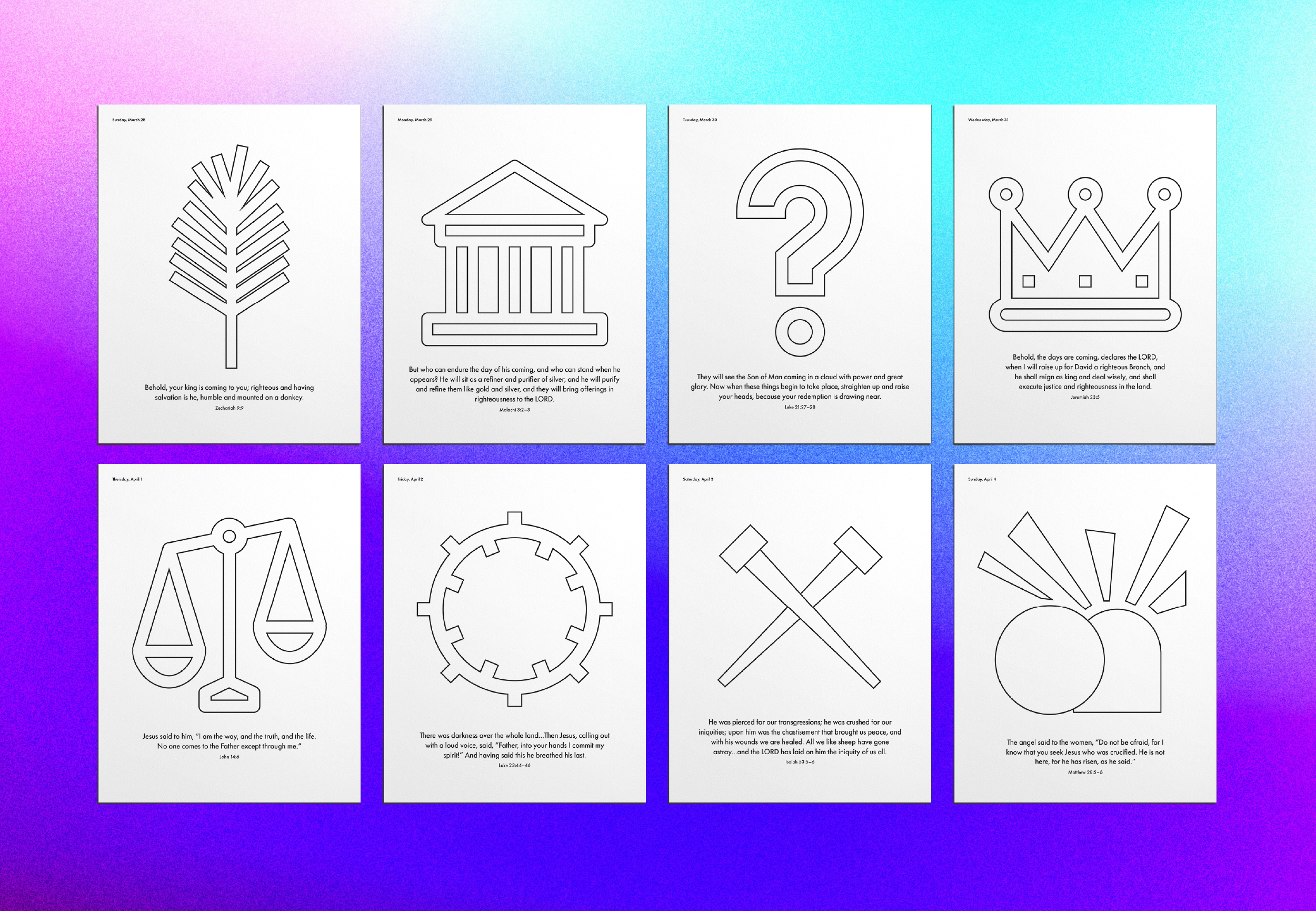 While marketing elements were the focus for the four weeks leading up to Easter, we developed special content for the Holy Week experience, with the heartbeat being a Bible reading plan. As the people of Athens journeyed through Holy Week, they received new email, social media, and app content each day.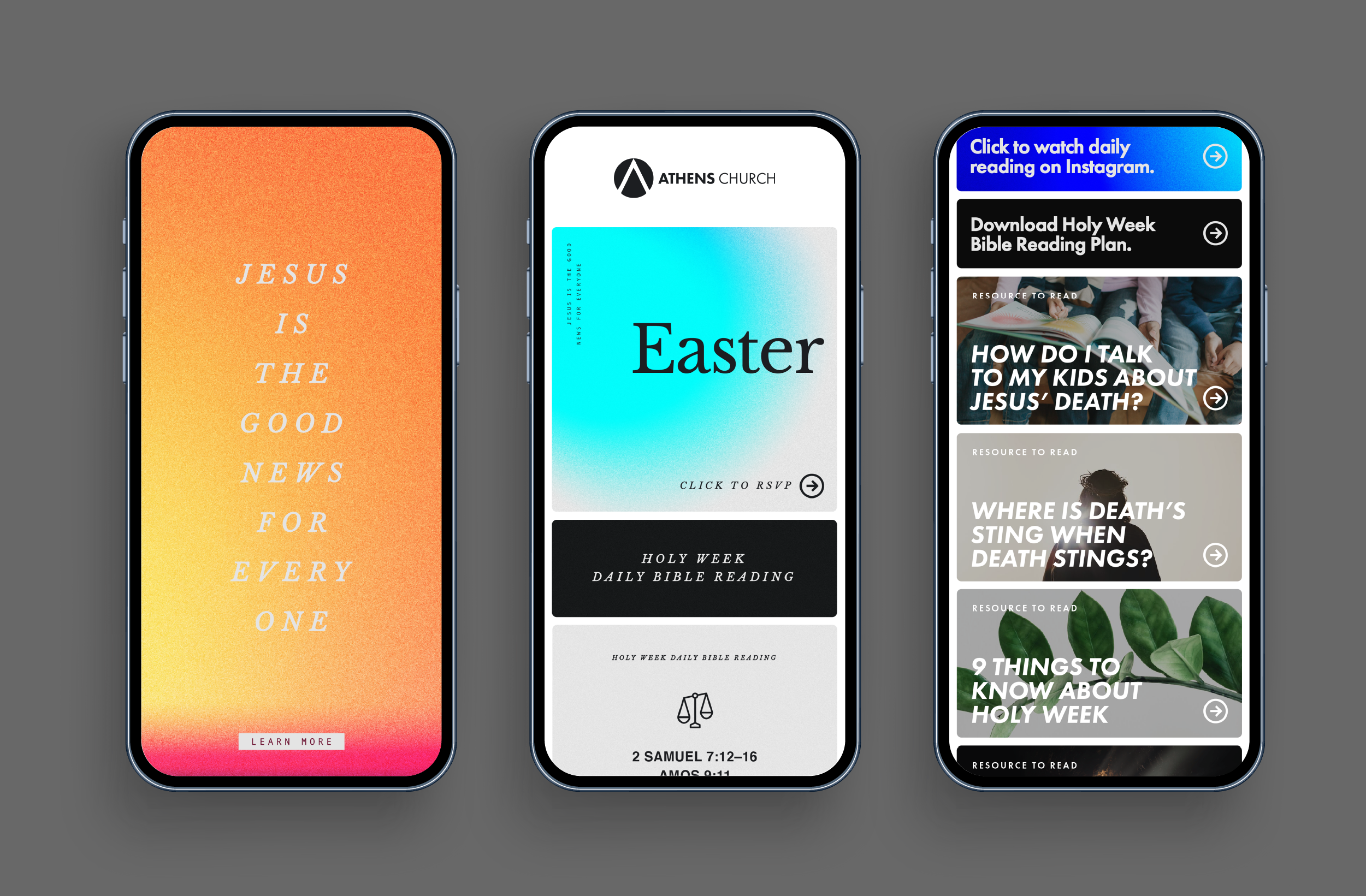 By leaning into the unexpected elements of Easter 2021 rather than avoiding or dismissing them, Athens Church was able to lead the people of their congregation into a deeper experience of the season of Easter. Having a strategic plan allowed them to draw parallels between the emotions they had been experiencing and the emotions felt in the first Easter story so long ago. The journey through Holy Week facilitated a mindset shift from seeing Easter as a single-day event on which we get dressed up to seeing it as the culminating celebration that came on the heels of great darkness, disappointment, and disillusionment. People who felt disconnected because of COVID shared a new sense of community as they read scripture to one another and participated in the same journey of coming to better understand why the resurrection matters.