Leading a nonprofit is a full-time job. In the start-up phase, when nonprofit teams are small and jobs are shared, it's easy to communicate with team members about contacts made or tasks completed. In the flurry of growth activity, however, important information often becomes hard to locate because it's spread across team member post-it notes, spreadsheets, or brains. This disorganization leads to dropped tasks, incomplete follow-up, and missed opportunities. Whether you're already plodding through the land of disorganization or trying to be proactive and avoid it altogether, a donor management system might just be the super hero you're looking for.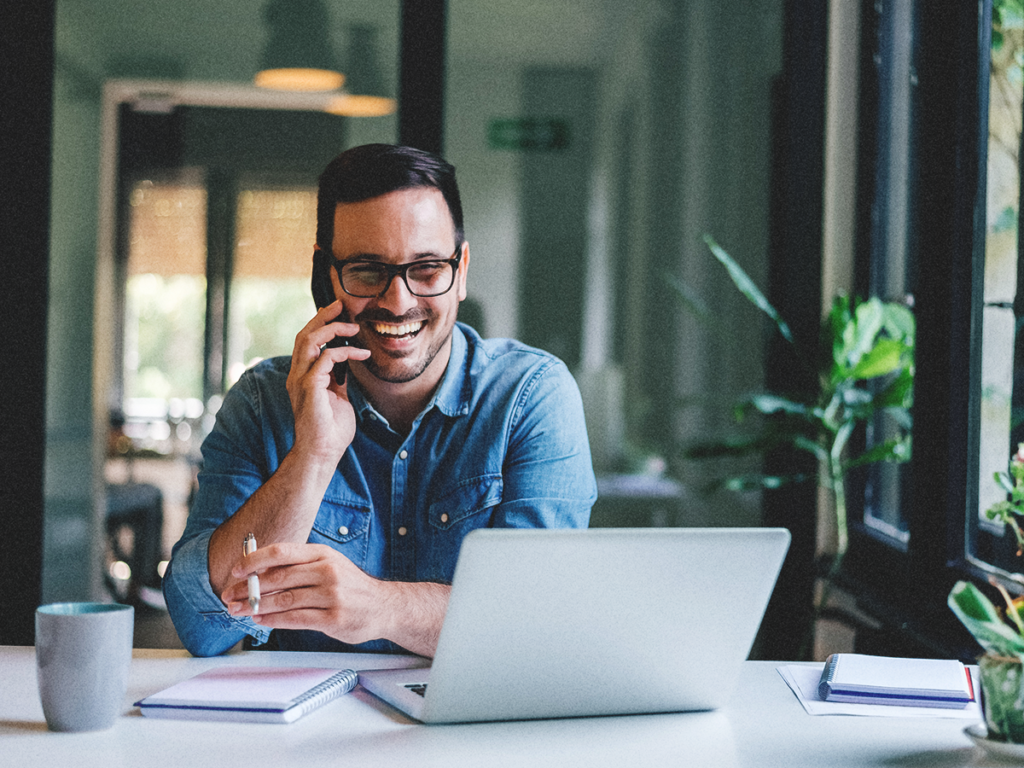 WHAT IS A DONOR MANAGEMENT SYSTEM AND HOW WILL IT HELP ME?
Technically speaking, a donor management system is a software tool that enables an organization to cultivate, manage, and maintain relationships with donors. In practice, however, a donor management system offers so many reports, automations, and integrations that you may feel like you've hired a new administrative assistant—or two!
Every interaction with a contact results in new and important data. When captured in a secure location that can be accessed by all team members involved in donor activities, this data provides the consistency and insight that fuel strategic growth. While a donor management system naturally allows you to collect and access basic information like names, contact information, and interests, this is only the beginning. An effective donor management system will allow you to easily:
Organize, sort, and analyze donor information in a wide variety of ways
Create, segment, automate and send personalized donor communications
Generate detailed reports about donors, donor groups, campaigns, initiatives, and giving trends
Create donation pages and collect online donations
Integrate with your other software tools such as those used for fundraising, email, accounting, and payment processing
Allows for a much better understanding of your donors
Assures donors are receiving regular, relevant communications that keep them informed & express appreciation
Provides you with insight that leads to strategic decisions
Creates a positive giving experience for your supporters
Saves time by that you don't have to spend time entering data
By using a donor management system, you'll gain a better understanding of who supports your organization and why, and you'll be able to determine which marketing strategies are most effective for which audiences at which times. And, with your software integrated and all the information you need in one place, you'll save time and money while simultaneously creating a positive donor engagement experience that encourages long-term relationships with your organization.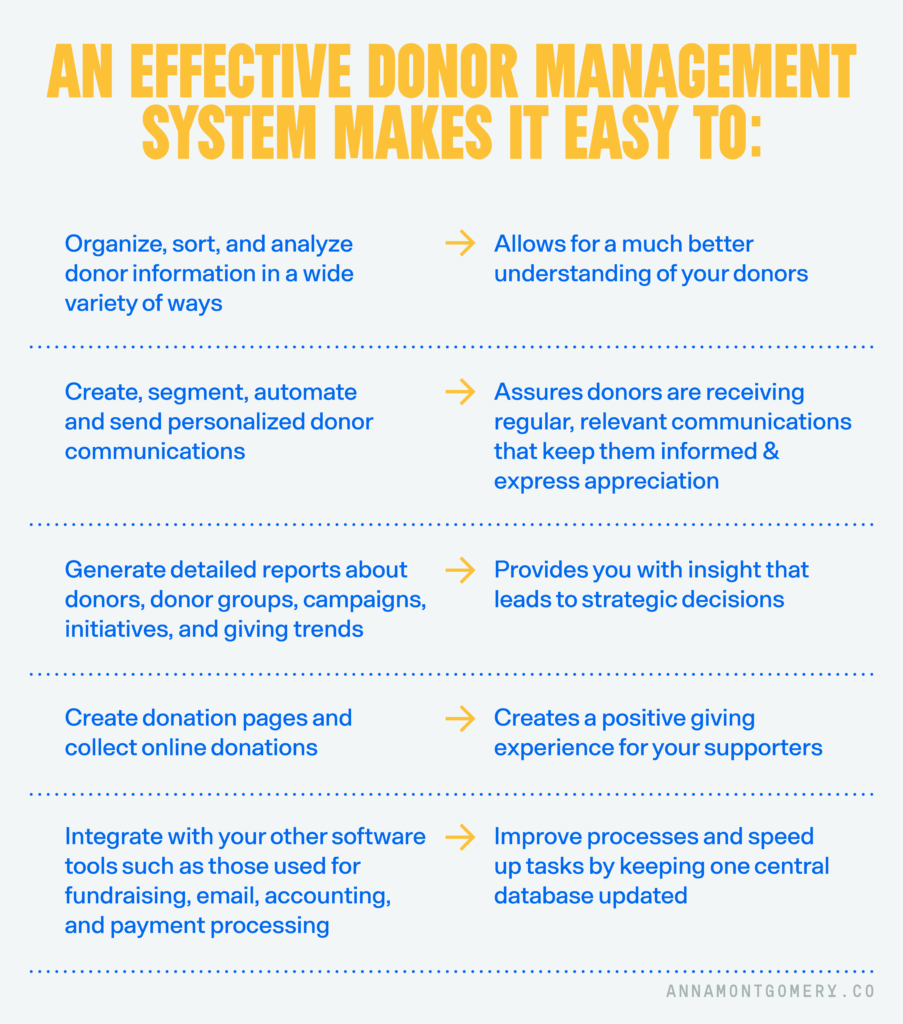 WHO SHOULD USE A DONOR MANAGEMENT SYSTEM?
Maybe you're sold on all the benefits of a donor management system, but you're still in the early stages of launching your nonprofit and are wondering if you really need one yet. Consider these questions to help assess the effectiveness of your current system:
Do you know how many donors you have and what their giving patterns are?
Do you know your donor retention rate?
Do you know what communication is going out and when?
Do you have a record-keeping method shared by all team members?
A donor management system will make your work more efficient and is a welcome relief to those who are entering information manually. Any nonprofit will benefit from maintaining these types of detailed records, and without a dedicated system, this type of data is hard to maintain, and reports are time-consuming to generate. The earlier you can begin using a donor management system, the better equipped your nonprofit will be to plan strategically and make decisions informed by data.
The good news is that the options available for managing donor information have expanded tremendously in the last few years. Even if both your budget and number of records is small, there are options tailored to you, with plans starting at $40 or less per month. Many companies offer pricing tiers that are scalable, allowing you to expand records and services as you grow.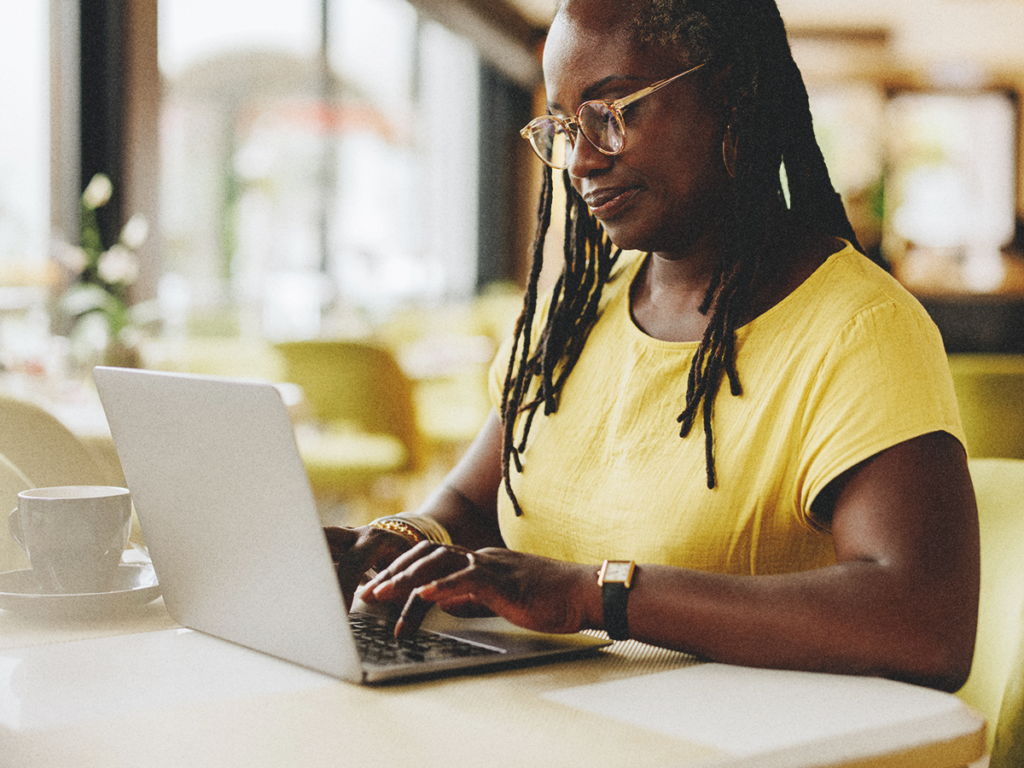 HOW TO EVALUATE DONOR MANAGEMENT SYSTEMS
With all the options available, where do you start and what factors should you consider in deciding what donor management system is the best fit for your nonprofit?
Before evaluating options, first hold a team meeting to determine your goal(s) for implementing a donor tool. For example, do you want to build better relationships? Acquire more donors?
Once you've clarified your needs, you can begin looking into possibilities. When comparing options, you'll want to consider:
Features offered – Read through the functions supported by each software option to assure that what is offered matches the needs of your nonprofit. For example, some donor management systems also allow you to manage volunteers, while others don't.
Integrations supported – If you use other software applications already, such as Quickbooks, for example, you'll want to be sure that the software you choose will integrate with what you're already using, allowing data to be automatically transferred.
Number of user accounts allowed – Some donor management systems will allow only one user account on their beginning plans while others will allow unlimited users.
Number of records included – Generally, the number of records allowed increases with the price tier. Some companies allow you to add records for a very minimal additional fee each month.
Support options for set-up and ongoing needs – Check support options carefully. Some companies offer email support only, while others offer phone or chat support. Additionally, some companies offer a library of video tutorials or a written library of help documents while others don't. Also, be sure to take a look at support offered during the initial set-up, as some companies include support, some charge additional fees as one-time fees, and some offer additional help for a fee only if needed.
Ease of use – Most companies offer demos of their products that will allow you to see exactly what the screens look like and how to use the various features. An easy-to-use interface can make all the difference in your team's use of this new system.
Total cost – You'll want to look for monthly costs, one-time set-up costs, and payment processing charges. Also, take a look at how the price will increase and services available will change as you grow. Some companies offer free trials or money-back guarantees as well.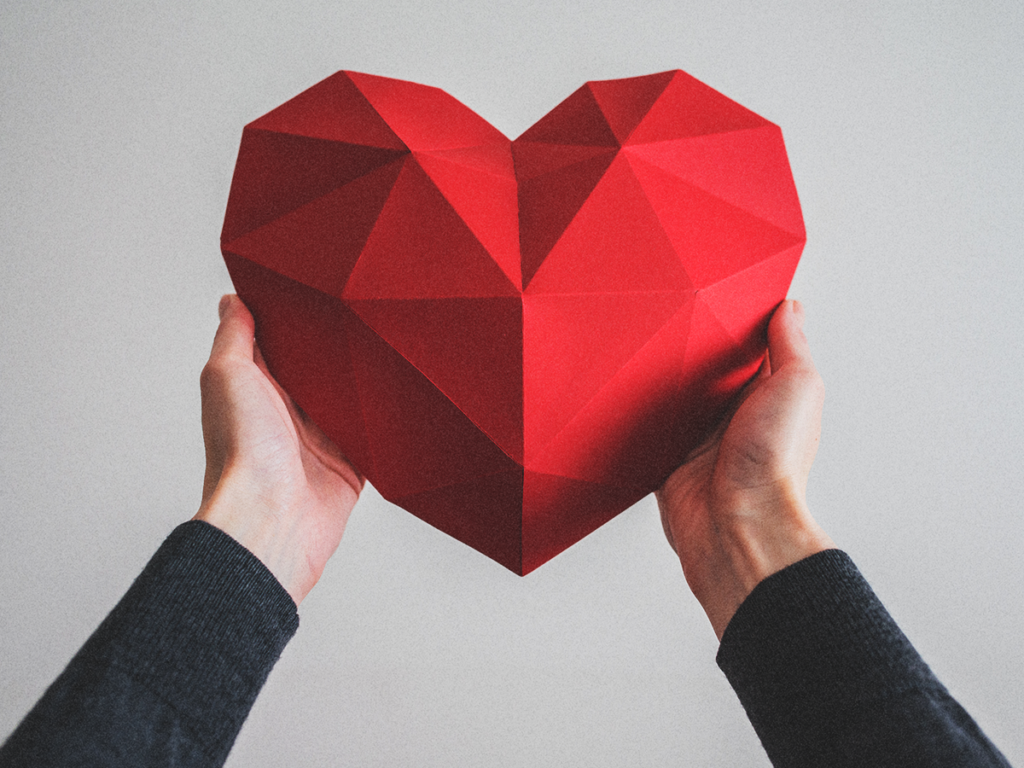 As you're considering options, be sure to read reviews and comments to find out what current users are saying about the system you're considering. If you want to do an initial comparison of several systems, check out G2 product information and reviews as a great starting place. Also, we'd be happy to share options we've considered with our clients, so feel free to contact us.
And, if you're doing some planning for next year and want to maximize your productivity, you might want to check out our resource, How to Accomplish Big Things with a Small Team.
Here's to creating structure for growth so you can move your mission forward!